Thursday 30 September and Friday 01 October
The METREX Riga Conference took place in September and October 2021. Output from this conference will be available online soon for METREX Members.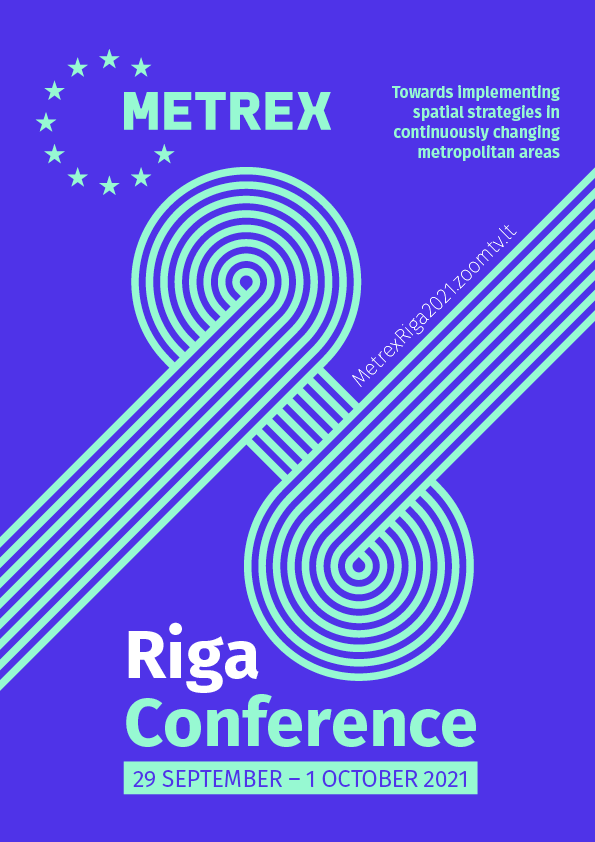 Conference overview
METREX and our host Riga Metropolitan Area invite you to join us online at the forthcoming Autumn Conference to learn from the new Regional Plan and its Action Plan for the Development of Riga Metropolitan Area.
On day one of the conference – 30 September 2021 – we will hear what the new Regional Plan entails, how it was achieved and with whom it was developed. We will have site visits to various areas and initiatives in the wider Riga area, as well as updates on key projects such as Rail Baltica.
On the second conference day – 01 October 2021 – we will take a step back to explore the concept of a Central European approach to planning and what we can learn from it. For this we have invited participation from several Central European METREX Members. We will also reflect on it from the perspective of the New Planning approach from the Netherlands.
Member Activities
29 September 2021
State of the Union of METREX Expert and Network Groups. The METREX manifesto on the Role of Metropolitan Regions and Cities.
Host Day: Riga
30 September 2021
Riga Metropolitan Authority present their new Development Plan and host parallel sessions to explore a number of its facets. We will visit exemplar projects.
METREX Day
1 October 2021
A focus on Nordic-Baltic and Central European Approach on Planning, including parallel sessions with input from other METREX Members.
Theme
The metropolitan landscape in former Central-Eastern European states have changed radically in the past thirty years. The overall increase of metropolitan land consumption has changed the settlement structure, with new mobility patterns and the need for public services as a result, leading the transformation of metropolitan space. Nevertheless in some cases metropolitan areas are still in the process of being recognised by the governing structures and given some kind of governance status.
In the case of Riga Metropolitan Area (RMA), the planning has been widely discussed in the past decade and the municipalities have come up with a mutual agreement to work together in developing a more efficient and competitive city region as well as to contribute to the macro-regional metropolitan networks strengthening the BSR in Europe and beyond.
The process and results so far will be explained in the METREX Riga Conference, with a focus on the new jointly achieved RMA development plan in a context of BSR and overall development tendencies of metropolitan regions. We will also explore if there is a Central European planning approach as a result of the specific post-war cultural historical background.