Europe is confronted by unprecedented social and physical change. But change brings new opportunities: the challenges we face in climate adaptation, energy production and consumption, productivity, competitiveness, migration and inequality, and digitalisation, all demand innovation.
Ambitious policies and programmes from the European Commission, such as the Urban Agenda, Leipzig Charter, Territorial Agenda 2030 and the Green Deal, have been designed to guide this change and build a stronger Europe together. There is no time to waste in turning these good intentions into action. We must move quickly and pragmatically, applying the best available tactics through the most effective vehicles.
We, the members of METREX, believe that European Metropolitan Regions and Areas are best in place to address the challenges we face, by bringing together the urban and rural areas and multiplying each other's strengths. By working at the Metropolitan scale we are grounded in realistic and practical solutions, yet with the reach to effect widespread change. We therefore have the tools to help develop a productive, healthy, inclusive and sustainable Europe.
This Mission Statement is a call to all European Metropolitan Regions and Areas to join METREX and demonstrate the pivotal role we play in solving the challenges ahead. It calls upon all Regions and Areas to set the necessary pace and demonstrate the power of local execution, to meet societal and ecological deadlines that we believe will otherwise not be met.
With this Mission Statement, we call on the European Commission and national governments to join forces with us to find viable solutions for the urgent challenges ahead.
Jakub Mazur
President of METREX
First Deputy Mayor, Wrocław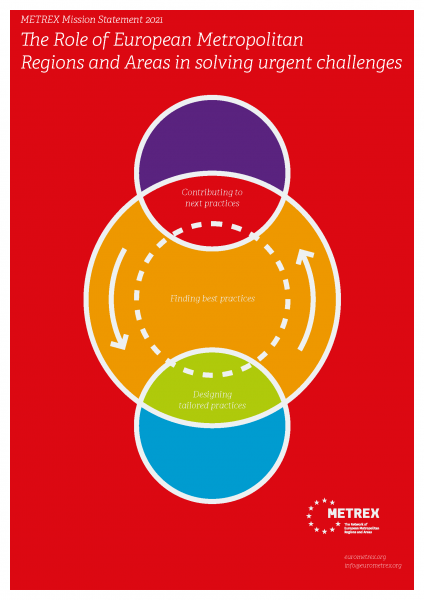 View the Mission Statement
Five Metropolitan Approaches
5)
Metrex contributes to effective policies.
Metropolitan Regions and Areas formulate constructive feedback on abstract EU policies and regulations they are working with across their territories.
4)
Metrex contributes to a common policy framework.
Metropolitan Regions and Areas translate their approaches into principles that are available for all European regional and local authorities.

3)
Metrex accelerates urgent transitions.
Metropolitan Regions and Areas demonstrate situational leadership on pressing issues which enables excellent followership for others. This accelerates the journey to finding tailored solutions.
2)
Metrex enables integrated thinking.
Metropolitan Regions and Areas come together on specific issues to build the capacities required to cope with the complexity of current challenges.
1)
Metrex shares knowledge and experience on urban and rural themes.
To continuously improve the performance of our Metropolitan Regions and Areas, METREX actively links experts to learn from each other's best experiences and practices on current and emerging topics.
Point of departure:
We are 'Living Labs'.
Metropolitan Regions and Areas invest in pilots and research across their territories that focus on workable solutions with maximum impact.