It is with great pleasure that I present on behalf of the Managing Committee this summary of METREX's achievements in 2021.
Despite the Covid-19 Pandemic continuing to dominate agendas, 2021 saw restrictions begin to lift and it was towards the end of the year in October, coinciding with World Metropolitan Day, that the Managing Committee was able to meet for the first time in person.
This occasion was not only an opportunity to experience the personalities of those alongside me on the Committee, but it was also an important reminder of why the network will continue to meet in person. While hybrid working has become an efficient way to conduct our cross-European meetings, in-person meetings cannot be matched when building towards a common goal – as we, the Managing Committee, are doing.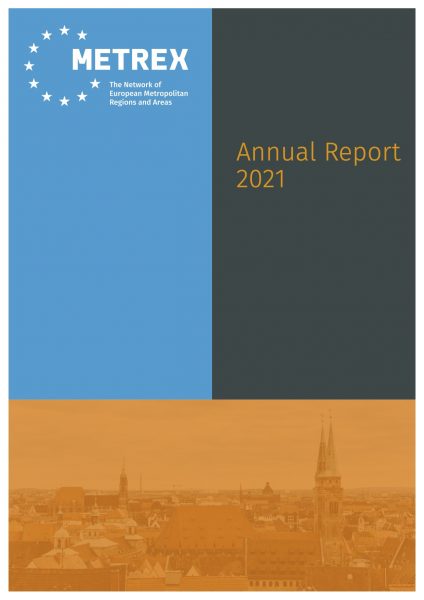 Download the Annual Report (PDF 3mb)
That said, we saw two excellent and highly engaging online Conferences, both focused on contemporary European challenges. In Spring, Nuremberg Metropolitan Region brought Farm-to-Fork initiatives to our attention, and in Autumn, Riga Metropolitan Area explored the implementation of regional strategies. Both conferences were a huge success in bringing forth ideas, best practice and analysis on these two important topics. Indeed, they have inspired follow-on activities for METREX, through an emerging Expert Group on Farm to Fork and Network Group of Central European Members.
The other big highlight of the year was of course our new Mission Statement. The culmination of several months of meetings with Members and trusted stakeholders, the Mission Statement organises the activities of METREX into an integrated chain of five approaches, which links the work of our Members at one end, to an aspiration for greater policy influence at the other.
The Mission Statement crystallises the role of METREX as a place to accelerate innovation across Europe. To ensure that all areas are keeping pace. It has helped to articulate areas of development that the Managing Committee has been working on, such as putting in place the structures for influencing policy at the European level.
We are incredibly grateful for the continued support of you, our Members. Indeed, I am pleased to see that our network continues to grow. Not only does this growth bring further insight to the network, but it also gives greater weight to our belief that Metropolitan Regions and Areas are best in place to address the significant challenges we face.
Thank you again for your contribution to the METREX network. I hope to see you at an activity soon, online or in person.
WE ARE METREX!
Jakub Mazur
President of METREX
First Deputy Mayor of Wrocław